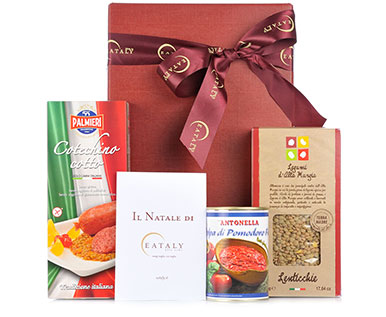 SAUSAGE AND LENTILS
€ 9,90
A traditional dish said to bring good fortune, especially if eaten in good company.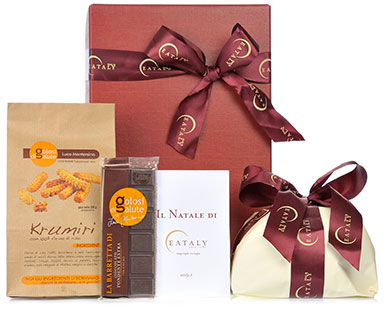 Sweet Greetings
€ 19,90
For those who unashamedly revel in their love of sweetness: high quality indulgence in delight.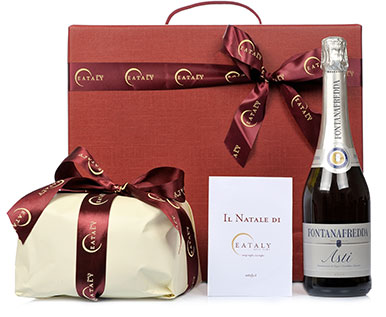 Panettone Cake And Sparkle
€ 22,90
A classic festive toast: glasses full of sparking Asti Spumante and mouths full of soft, perfumed panettone cake!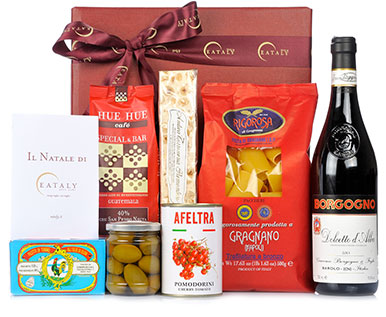 A Mouthwatering Christmas
€ 25,90
A selection of typical products which have contributed to the global fame of Italy's irresistible gastronomic genius.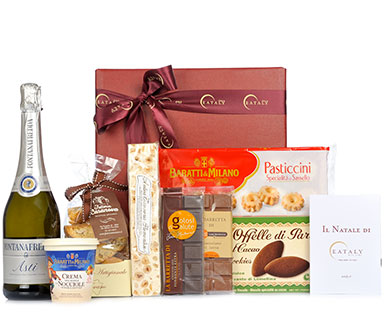 Eataly Sweetnessy
€ 29,90
A selection to make connoisseurs of sweetness purr as they raise their glasses.
Pastas By Maccaroneria Di Gragnano
€ 29,90
All the goodness of premium quality ingredients, extruded through bronze instruments and left to dry slowly.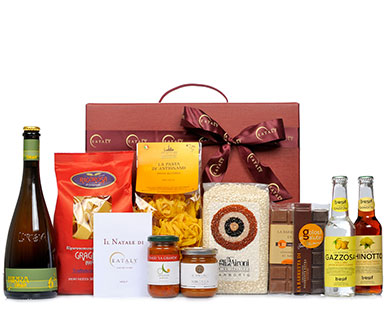 The Eataly Dispensa
€ 35,90
Let Eataly choose for you, selecting the most delicious quality products that no larder should be without, for the pleasure of others or yourself.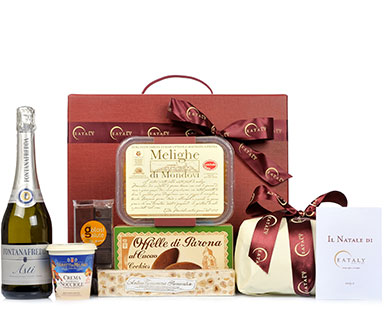 Christmas Sweetness
€ 39,90
Everything you need for drinking exquisitely sweet Christmas toasts.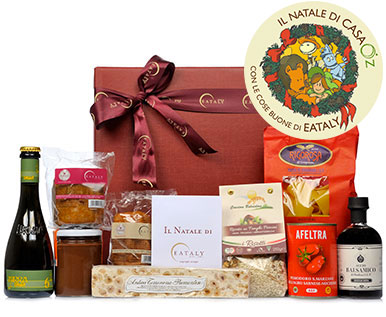 Casaoz
€ 39,90
Profits from the sale of this product go to support the CasaOz project, which provides hospitality for seriously ill children and their families.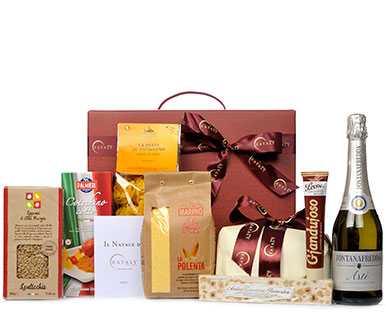 Delicious Festivities
€ 46,90
Make it a truly festive season: grace your table with the best that Italy has to offer, and share the joys of taste and conviviality.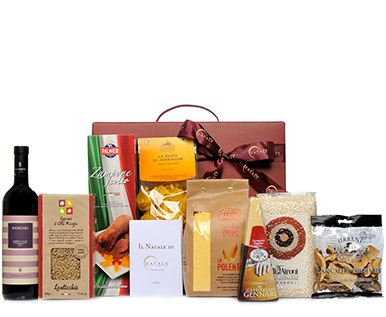 A Mouthwatering Christmas
€ 55,80
Truly special creations from Italian tradition: authentic quality refined by generations of passion and expertise.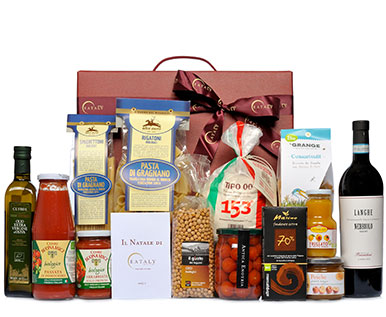 An Organic Christmas
€ 59,90
A selection of items with organically produced ingredients, offering the joys of nature's tastes to environmentally aware diners.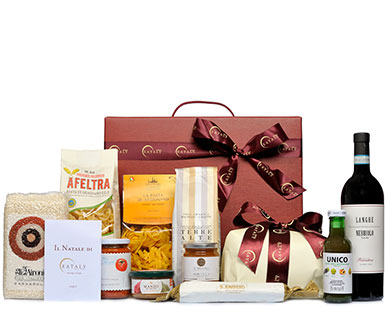 Eataly Treats
€ 69,90
Exquisite delicacies selected from Italy's traditions: a festive celebration of taste.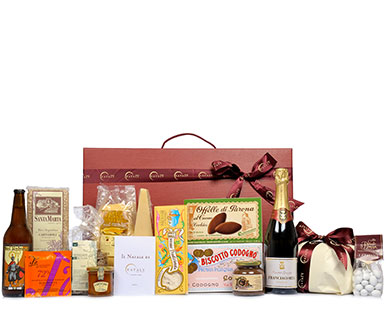 Flavours From Lombardy
€ 85,90
Be sure your gift is original as well as superb: memorable gastronomic treasures from Lombardy.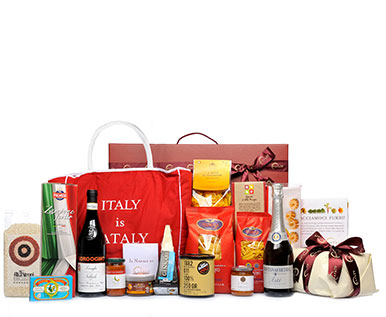 Christmas Dinner
€ 99,90
Everything you need to serve up an unforgettable Christmas dinner, from starters to dessert...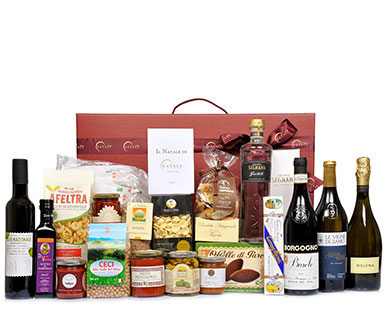 Viva l'Italia
€ 139,90
A gastronomic journey through Italy's supreme regional specialities.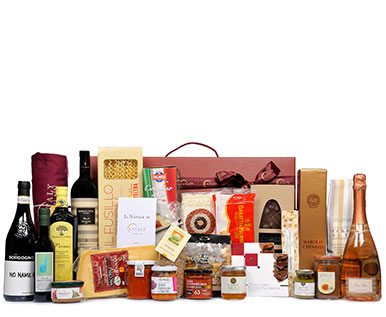 Eataly'S Treasures
€ 199,90
Be remembered for this most generous of gifts: every item a connoisseur's dream come true.
Choose a gift voucher or a unique experience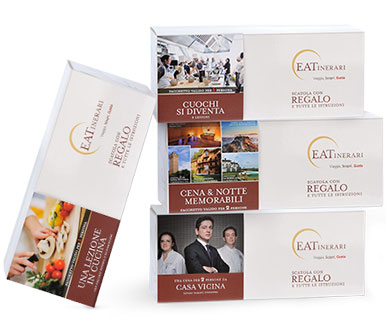 EATinerari
Make your gift someone's unique experience: courses, tastings, lunches and dinners in top restaurants.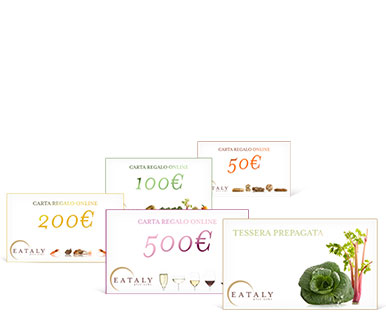 PREPAID CARDS
Prepaid cards and Gift Vouchers of any value, valid both in Eataly points of sale and in the Eataly Online Store.
ENTRUST YOUR CHRISTMAS PRESENTS TO US!
If you're looking for a memorably tasteful gift idea for someone who means a lot to you, write to us about it: at Eataly we'll be only too happy to collaborate on creating your own personalised gift packs.
You can choose among our products and have your gift delivered to its recipient's home... so easily, with Eataly!
For further information (no obligation involved), fill in the form below.